PUZZLE FUN - TIPS HOW TO PUZZLE RIGHT
PUZZLE FUN - TIPS HOW TO PUZZLE RIGHT
How should I start with this puzzle? All parts look the same. Will I really get this puzzle finished at some point?
All puzzlers, beginners and professionals, at some point thought something like this while looking desperately at the puzzle pieces, right?
Here we have 10 tips for you on how to best handle even the toughest puzzles:
1.NOT JUST A NICE PUZZLE ...
It goes without saying that you should look for a beautiful motif, a puzzle motif that you really like. But not only that. You should even get your heart pounding while looking at the puzzle! The motif should inspire, motivate and enchant you! This is the only way we can assure you that you will enjoy laying every single piece of the puzzle.
2. SOMETIMES THE SIZE IS IMPORTANT ...
If you are just a beginner, think carefully about how many pieces you want your puzzle to have. If you've already done a jigsaw puzzle or if your patience is easily trained a 500 is the best option for warming up. Then you can confidently trust yourself to bigger puzzles.

If on the other hand, you already have a lot of experience you have a very large selection of 1000's with many different motifs that can test your puzzler skills. If however 1000 puzzles are no longer a challenge for you, you can consider whether you for example, trust the Eurographics puzzles with smart technology... They are a real challenge for every puzzler and for every patient person. Or maybe you want to consider whether a puzzle with several thousand puzzle pieces is right for you?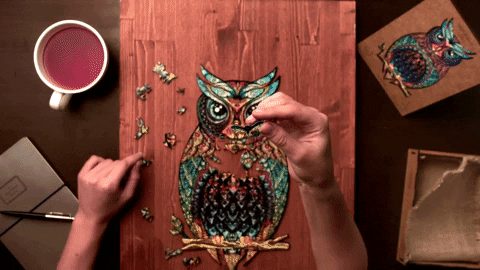 3. THE SURROUNDING AREA MATTERS ...
and above all the light! It is most beautiful when the sun is shining outside and we can do jigsaw puzzles on the balcony or terrace. But unfortunately the weather doesn't always cooperate or it just isn't possible. Then it is important to have a comfortable and well-lit place. And then the fun of puzzling can start!

4. FIND OUT THE EDGES
Almost always helpful, but not a 100% solution. It is really difficult to place the border with certain motifs. Then it is better to look for a conspicuous part of the motif that is "easier" to start with. If your puzzle is a single color... have fun!

5. SORT, SORT AND GO!
We have to admit we are not a good example of this. We open the box and get started. But... if you are sitting in front of a puzzle and are desperate... that should help: sort the pieces by color and / or by shape. And if it doesn't help... you have decorated the table fully and in color!

6. A LITTLE BREAK CAN HELP!
If you've been searching and searching for hours and can't find anything, you may be much more successful after a little break. Take a short walk or have a nice cup of coffee and then continue puzzling.
7. IT'S EVEN MORE FUN TOGETHER
More eyes see more parts. And maybe the eyes of your partner, your children, your (in-law) mother or your neighbor will find exactly the part that you have been looking for for hours and that fits into the gap.
8. EXACTLY THIS PUZZLE PIECE ...
You probably have a few hundred pieces left, but you want to find THAT ONE piece. We get it... but if you can't find that part right now, try another one. Save your nerves.
9. BREATHE DEEPLY AND STAY POSITIVE
You have to enjoy the jigsaw puzzle. It's not a marathon and it's not about getting it done quickly, but enjoying the laying. Unless you're in a puzzle competition then you should hurry up! But usually all you have to do is relax and enjoy it every time you find a new part. You are just doing great!
10. YOU'RE DOING A GREAT JOB ... AND YOU'VE DESERVED A REWARD!
Certain puzzles can actually get on our nerves, so this is an important point: reward yourself! With chocolate, with sweets, with a cold drink in summer or a warm tea in winter... it's up to you, but the fact that you do such a great job at the puzzles is worth a reward.
We hope our 10 tips will help you and make puzzles even more fun and enjoyable so that you have even more fun and desire for puzzles. And if you need new challenges visit our shop! You are sure to find a great motif that will make your heart race.