Do you need distraction from everyday life? Puzzle fun for everyone!
Let your mind wander to peaceful meadows and blooming forests with these 3d puzzle sets! Every single piece of these wooden puzzles is a miniature representation of nature. Together they create a breathtakingly beautiful majestic creature a work of art that you can hang in your living room.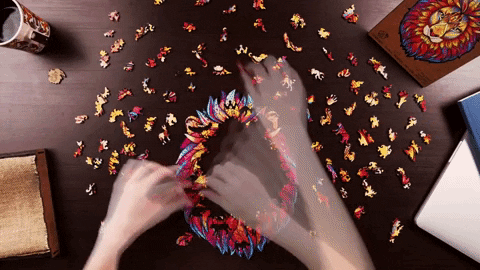 🐉 Dare to enter a fantasy realm dominated by DRAGONS.
🦎 Change the pace and let your creativity run free with a colorful CHAMELEON.
🐺 Think about the mystique that surrounds the WOLFOL pack leaders. Put together our colorful OWL mandala puzzle.
🦁 Or go into stealth mode while upgrading the LION KING of Beasts!
These are certainly no ordinary cookie cutter puzzles. Since each puzzle piece is an artistic masterpiece in itself, our mandala art puzzles go further to form complete scenarios. Let your imaginative mind float as you organize and arrange uniquely shaped puzzle pieces to construct your very own composite creation.
These detailed pieces have been laser cut to ensure smooth edges that fit together perfectly but have no burned laser marks. The beautiful prints and bright colors won't fade even after repeated handling of the pieces, ensuring that your puzzle set looks flawless for a long time.
Our puzzles are fun for the whole family! Solving a puzzle together is a great experience. So why not introduce your kids to the wonderful world of puzzles? This is an excellent choice for family game nights.
GREAT COLORS AND DETAILS -
Our product features great print quality and intricate laser cut pieces. When your wooden puzzle is ready, you can hang it up as a noble decoration in the living room.
FUN FOR EVERYONE -
Let children or parents practice their problem solving and thinking skills with this wooden puzzle or use it as a way to relieve stress after a long day at work. Fun for the whole family!
GREAT GIFT IDEA - Looking for a thoughtful birthday or holiday present? These wooden unique puzzles are the perfect choice! Give your loved ones hours of entertainment.


🦁 Unique shapes and great details
🦁 Every piece of the puzzle is an artistic masterpiece
🦁 fun for the whole family
🦁 Extraordinary gift idea
🦁 Unique colors
🦁 Noble decoration for the living room


► Shipping within 48 hours
► 14-day right of return
► Free shipping
► Secure payment process
► Inquiries are answered within 24 hours